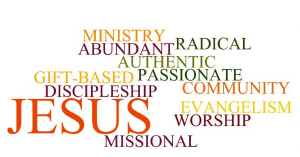 Mission Statement
The mission of Higher Hope Church is "to lead people to abundant life in Jesus Christ" (John 10:10).
Core Values
Passionate Worship– The Greatest Commandment is to "love God with all our heart, soul, mind, and strength." We strive to help people worship God not only at church but also in their daily lives.
Authentic Community – Scripture says "It is not good for man to be alone." We were created to experience authentic relationships. We want to be a community where people feel like home and are part of an incredible family.
Radical Discipleship – We want to invite people to "come as they are" no matter their background and where they are in life. But we also want to challenge people to respond to Jesus' offer of "Come, follow me…"
Gift-Based Ministry – Everyone has gifts. Everyone has passions. We want to help people discover their gifts, ignite their passions, and see God use them to impact lives.
Missional Evangelism – If you know Jesus Christ, He has put you where you are, for a purpose and a mission. We are called to live out our mission with God.
What We Believe
JESUS CHRIST – It is only through Jesus Christ that we have a FULL LIFE. He became man, so that we may know Him. He willingly gave Himself up for us so that we can experience life, and life to the full.
THE BIBLE – The Bible is God's Holy Word; it is without error; it was written by human authors under the guidance of the Holy Spirit; it is His love letter to us, His People.
GOD THE FATHER – All powerful, holy, all knowing, ever present, and beyond all that we think He is!
THE HOLY SPIRIT – He is ever present in the lives of the followers of Christ. He convicts us of our sin. He instructs and guides God's children, and He gives gifts to each believer.
THE CHURCH – The Church is God's chosen instrument to work in the world.
SALVATION – We are sinners in need of a Savior. Our Salvation can only be found in a relationship with Jesus Christ. We are not saved through what we do, but only by God's amazing grace.
Higher Hope Church is a member of the Churches of God, General Conference (CGGC). If you would like further information on the doctrine of the CGGC, please visit www.cggc.org and look at what we believe.